Reliable parts marking – indispensable for Industry 4.0


Procedure and methods for sustainable parts marking

The question nowadays is not whether produced parts have to be marked but how. The "How" can differ in the marking format (alpha-numeric, barcode, QR code, data matrix code, etc.) and in the different marking procedures that are available on the market.

We at gravostar technologies have been dealing with this topic on a daily basis for more than 25 years. In 1995, we started to develop tools for non-cutting tools for individual parts markings in the CNC machine. Nowadays, this sector is one of our absolute core competencies.

The following description illustrates the benefits that parts marking offers and why this is indispensable in certain sectors. Furthermore, the various requirement levels for parts marking are highlighted, as well as the different marking procedures.
General information
Why parts marking
The reasons for parts marking are numerous. Identifying the part number for easier storage and clear identification is certainly one of the most widespread applications.
Basic marking options
In this regard, a differentiation must be made between markings with limited sustainability (manually with a felt tip pen, using an inkjet printer, using stickers, etc.) and markings that are applied indelibly to the workpiece. The latter can no longer be removed or can only be removed mechanically.
The selection criteria for the marking procedure to be used and the corresponding framework conditions are mainly defined by how the parts are used, but sometimes also by legal regulations.
This is mainly:
A minimum amount for the marking depth, which is required for parts subjected to high amounts of abrasion for example (such as drilling units for oil production, tunnelling, etc.) or for parts where the marking must remain legible even if the parts are painted retrospectively.
Micro-percussion as a prescribed marking procedure for safety-relevant parts or parts subject to high mechanical loads (turbines, aeronautics, etc.). This is because this is the only procedure in which a certain marking depth can be achieved without separating the material fibres.
Do you have an unsolved marking task or would you like to optimise the marking of your parts?
Roland Zahner
Technical support / distribution
Tel. +41 (0) 71 940 06 76
E-Mail: info@gravostar.com
Information content of the parts marking
A distinction can be made between two methods in this point:
Fixed marking, in which all parts receive the same marking
Individual parts marking, i.e. each part receives a different marking
In individual marking, the lowest level is simple markings such as dots or dashes that are used to indicate positions or design variants. The most widespread are indicators such as letters, numbers or combinations of letters and numbers for part identification. The most comprehensive are real-time data (serial number, current production data such as machine number, production time, etc.), which are read out from the machine controller or the internal network.
Parts marking procedure

When considering automatic parts marking, a distinction can be made between two options for the procedure:
In process marking, where parts marking is an integral process in the machining process, i.e. each produced part comes out of the machine complete with marking
Parts marking as a downstream process using a separate marking unit

Automated parts handling (interlinked system for large series production)
Manual parts handling
Type of marking

Nowadays, marking is still predominantly alpha-numeric (numbers and letters) in many cases, sometimes also with logos or corresponding combinations. Marking using barcodes, particularly QR codes or data matrix codes, is increasing massively.
Possible marking procedures
The table below provides an overview of the most common marking methods.
There is a significant difference between "In-process marking" and all other procedures: Marking is fully automated without manual intervention, i.e. each workpiece is fully marked when it comes out of the machining machine and can be processed further immediately. This saves staff costs on the one hand and increases process reliability on the other.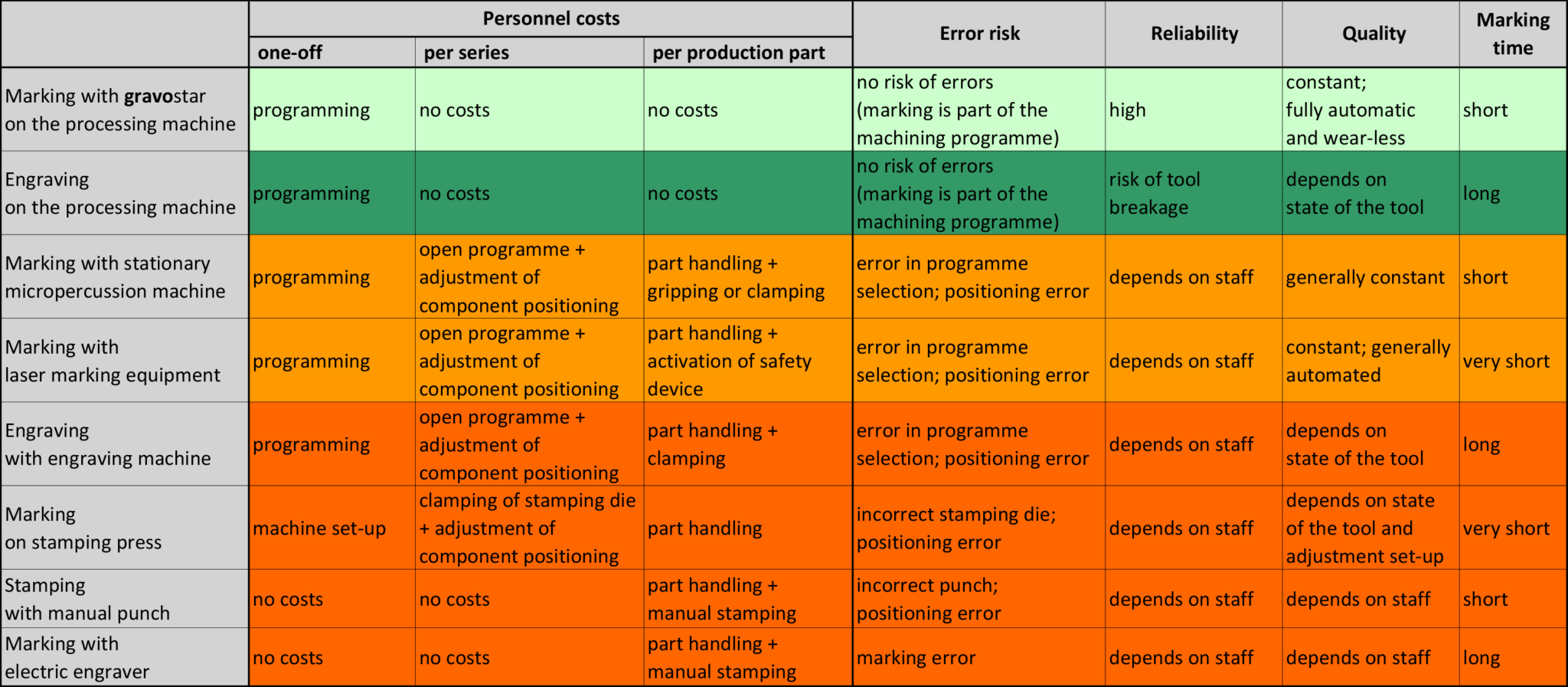 1. Automated marking integrated into the machining process
This procedure is particularly suitable for part production in CNC machines. The parts marking procedure is an integrated part of the machining process. As with all other machining tools, the required marking tools are stored in the tool magazine and are inserted automatically by the tool changer.
Benefits:
Parts are finished when they come out of the machine

Shorter cycle time, as a separate work step is omitted completely

Detailed marking option in real time

Serial number (production sequence)
Specific workpiece identification
Production date, time, etc.
QR or data matrix code

Time saving

Separate marking work step is omitted completely
No additional part handling required

Cost saving

Employees can be allocated more efficiently
Simplified multiple machine operation, etc.

Relieves employees

Lower noise levels
Reduced risk of injury

Highest possible process reliability

Marking is part of the production program
No manual intervention (no incorrect or forgotten marking)

Reduced logistical effort

Organising additional handling or part transport not required
No additional checks required to establish whether parts are marked correctly

Space saving

No additional marking machine
No separate work station required for marking
Parts do not have to be stored temporarily prior to marking

Comparatively low investment:
Only the marking tools have to be procured
Disadvantage:
The machine runtime per manufactured part is extended by the time taken for the marking procedure
Process-integrated parts marking is possible using various procedures that are described below.
1.1 Engraving or milling
Engraving used to be used frequently but is no longer very rational for simple parts marking these days, as the procedure requires a comparatively long time (in addition to the rather modest feed speeds, piercing the material in particular must be performed very slowly). Furthermore, very high spindle speeds (special spindles) are required and very few machining machines are equipped with these.
Another disadvantage of engraving is also that a burr is created more and more on the marking as the tool cutter gets worn, and this has top be removed subsequently or the quality deteriorates massively.
There is also the risk of the tool tip breaking, resulting in marking no longer being performed.
Conclusion:
Engraved markings are very high quality, which is why this procedure is still used these days for jewellery or producing high precision clocks.
For simple parts labelling, engraving is less suitable due to the comparatively high time requirement and the limited process reliability (milling cutter breakage).
Do you have an unsolved marking task or would you like to optimise the marking of your parts?
Roland Zahner
Technical support / distribution
Tel. +41 (0) 71 940 06 76
E-Mail: info@gravostar.com
1.2 Micro-percussion
Micro-percussion was developed at the end of the last century and the first marking machines that work according to this principle came onto the market in the 1990s. It is a very fast, virtually wear-free and absolutely reliable procedure.
The gravostar micro-percussion tools were developed and placed on the market at the end of the 1990s based on this procedure. The special feature of the tools is that they can be used on any machining machine without any additional installation.
The procedure principle
The marking is created by a solid carbide needle that is set to high oscillation (around 300 Hz) hammering one fine point after the other into the marking surface. This means that only punctiform material compaction or displacement occurs. It is therefore possible to use this procedure to mark very weak parts and parts with thin walls. In contrast to engraving, no material is therefore separated and the part is not weakened due to the marking.
The tool's special feature is generating the needle oscillation (using compressed air or coolant via the ICS). Spindle speed is also not required due to this drive.
A positive side effect of the tool is the integrated gap compensation function that can be up to several millimetres depending on the tool type. This means that the marking can always be applied at an even depth and without impairing quality even when marking uneven surfaces.
Conclusion:
Micro-percussion is the optimum fast, wear-free and reliable procedure for universal marking of normal components and parts that are subjected to high stress in aeronautics, vehicle technology or energy technology.
Due to the extremely hard marking needle (92 HRC), virtually all materials that can be machines can be marked, even hardened parts of up to 62 HRC.
Not to forget the marking options of QR codes or data matrix codes, for which the tool is highly suited. In particular, these codes must be able to be applied to uneven surfaces (such as shafts, raw die cast surfaces, etc.) absolutely reliably.
1.3 Scratch marking
Scratch marking can be considered the simplified version of micro-percussion. Unlike needle oscillation for micro-percussion, the marking needle for scratch marking is pre-tensioned using a spring assembly.
Marking is performed by the spring-mounted, pre-tensioned scratch marking needle being pressed into the workpiece surface when following the marking contour. Depending on the spring pre-tension setting, the rounded needle tip is sometimes pressed against the tool surface at very high pressure.
In this way, a combination of material compaction and displacement generates a deep marking contour. The spring pre-tension on the tool can be adjusted infinitely to control the marking depth. Due to the spring-mounted scratch marking needle, this tool also has an automatic gap compensation function, i.e. gap differences between the tool and the surface, and unevenness on the workpiece surface are compensated for automatically.
Conclusion:
A simple, fast and low-cost marking procedure in which the scratch marking needle is pulled over the workpiece surface. However, the resulting shearing forces make it possible that some material particles will also be scraped off in addition to material compaction occurring.
The scratch marking needle is made of solid carbide and is fully wear resistant thanks to its hardness of 92 HRC, which means that the tool can be used for universal marking tasks on most materials that can be machined.
1.4 Ball point marking
The layout and function of the ball point marking tools are basically identical to those of the scratch marking tools described above. The only difference is the marking needle's tip.
Unlike the fixed needle tip on the scratch marking tools, the needle for the ball point marking tools has a small ball that can rotate. This therefore rolls over the workpiece surface, which ensures that no material particles are scraped off.
As a result, when running over the workpiece, there is a high quality marking contour from an optical perspective, which is slightly indented. The required marking depth can also be adjusted infinitely using the needle pre-tensioning pressure and this tool type is also equipped with the automatic gap compensation function.
Conclusion:
Simple tool for applying fine markings that are high quality from an optical perspective but without weakening the material.
Due to the fine mounting of the small ball that can rotate on the needle tip (diameter 1mm), the marking needles are subjected to a significantly higher amount of wear and must be replaced on a regular basis.
In nachfolgendem Dokument kann ein Überblick der verschiedenen Werkzeugausführungen zusammengefasst als PDF heruntergeladen werden.
gravostar Marking tools
In the following document, an overview of the various tool designs can be downloaded as a PDF
2. Separate marking process downstream of the machining process
Benefits:
No effect on the machining process
Any marking procedure can be used
Disadvantages:
Additional part handling required (manual or automatic
If handling parts manually:

More staff required
Increased logistical effort
Reduced process reliability
Extended total production time

Higher investment

Marking machine with positioning system
Handling units mat be required
Protective equipment may be required

Additional space required
The procedures described below are suitable for downstream parts marking in a separate process.
2.1 Engraving, scratch marking
Engraving was the only marking option for individual parts markings for a long time. Nowadays, engraving or scratch marking with stationary engraving machines is predominantly only still used for jewellery or clock making.
The disadvantages of the low machine spindle speed are not there on stationary engraving machines. However, even engraving on stationary machines is no longer suitable for rational parts marking due to more efficient procedures nowadays.
Conclusion:
With the exception of special applications, particularly in jewellery and clock marking, engraving machines are not really suitable or are obsolete for rational parts marking these days.
Do you have an unsolved marking task or would you like to optimise the marking of your parts?
Roland Zahner
Technical support / distribution
Tel. +41 (0) 71 940 06 76
E-Mail: info@gravostar.com
2.2 Micro-percussion
The stationary micro-percussion machines are the heirs to the engraving machines when it comes to rational, individual parts marking. The micro-percussion principle is an extremely fast, virtually wear-free and extremely reliable procedure.
Due to the comparatively cheap mechanical and electrical components these days and the widespread and easy to use marking software, these machines are offered by many manufacturers nowadays. Furthermore, the large degree of competition between the different suppliers have caused the machine prices to reduce significantly in recent years.
Conclusion:
Micro-percussion systems are an extremely efficient marking option for many applications.
However, when comparing to engraving from an optical perspective, there are some compromises to be made but this is not critical in most cases. Furthermore, there are significant differences between the several dozen suppliers when it comes to application options and the marking result that can be achieved.
2.3 Laser marking
Laser marking provides very diverse options. This is both with regard to the laser procedure and the materials and applications to be marked. Laser marking is the only procedure that does not involve any form of mechanical contact with the marking surface.
In the following versions, we will limit ourselves to marking bare metals. There are two options for laser marking here:
Marking using tempering colours
No material is stripped here. The marking appearance (colour change on the workpiece surface) is generated by the punctiform heat effect that is caused by the laser beam passes over. The procedure is very fast but the marking only has limited resistance to strong mechanical abrasion.
Laser engraving by stripping material
Unlike the procedure described above, material is stripped off in this procedure by vaporising it at high temperature. This causes an indented marking like with engraving. However, this procedure takes significantly longer and you must be aware of the fact that the strength of the part that is marked in this way is reduced (material fibres are separated).
Conclusion:
Laser marking is not always laser marking, i.e. the concrete marking requirements should be defined clearly in advance. Differentiation must basically be made between the following criteria:
Whether fine, fast marking that protects the material is required (but that is only resistant to abrasion to a limited extent)
Whether there is a requirement for secure, permanently visible marking (where a slight weakening of the part can be accepted)
Stay up to date
With the gravostar e-mail newsletter you will regularly learn everything about process-integrated part marking or automated deburring.
2.4 Other marking methods
Mechanical marking procedures
In order to ensure that this list is as comprehensive as possible, the following procedures that are mainly used for consistent markings should be mentioned:
Roll-on stamping procedure
(for mainly automated, mechanical use)
Stamps on stamping presses
(or manual or automated use)
Printing procedure
Of course, there is also the option to use the printing procedure to mark the parts. For completeness, we have also listed this here even though this procedure is rarely used in this industrial sector.
Pad printing for fixed markings
Inkjet printing for fixed or individual markings
3. Manual marking methods
Despite the information being primarily focussed on automated marking methods, the manual procedures should not go unmentioned at this point.
We do not wish to go into them in great detail but they are listed below for completeness:
Manual marking stamp

Marking using an electric engraver

Electrochemical etching
Do you have an unsolved marking task or would you like to optimise the marking of your parts?
Roland Zahner
Technical support / distribution
Tel. +41 (0) 71 940 06 76
E-Mail: info@gravostar.com
4. Advantages of in-process marking with gravostar
After looking at the different possibilities of part marking, what the above table of the different marking methods already suggested is confirmed. There are unique advantages to marking parts directly on the CNC machine.
Main advantage: previously unachieved process reliability
The marking is part of the production programme and thus runs automatically. This means: the previously required process of additional parts handling as preparation, as well as the actual marking process are eliminated. This means that errors such as forgotten or incorrect marking are a thing of the past.
Due to the non-cutting marking process, the marking is done by carbide marking needles. These are practically wear-free and can be produced in practically any shape. In addition, no spindle speed is required and very high feed rates of over 5'000 mm/min can be run.
The tools are equipped with an automatic distance compensation device, which amounts to several millimetres. This means: uniform marking depth, even with dimensional deviations or unevenness of the marking surface. This enables, for example, the process-reliable marking of castings on the raw casting surface.
Most universal marking possibilities
The process can be used to create markings of any type and size, such as:
Alphanumeric markings with fixed or individually changing text
Automatic serial numbering
Real-time fabrication date
Date Matrix Code or QR Code
Product advantages
The advantages of gravostar marking tools conveniently in a PDF for downloading
Simplification of the production process and cost reduction
The omission of the additional process step of part marking results in additional savings such as:
Elimination of handling or, if necessary, additional transport costs for part marking
Reduction of logistics and control effort
Relief for the production staff
With process-integrated part marking, the machining process is extended by a few seconds. However, the advantages described above outweigh this aspect in most cases. Especially in connection with largely automated production, this significantly increases competitiveness.
Do you have an unsolved marking task or would you like to optimise the marking of your parts?
Roland Zahner
Technical support / distribution
Tel. +41 (0) 71 940 06 76
E-Mail: info@gravostar.com
PS: during our consultation meetings, our focus is always on the customer's tasks and not on our tool solutions. Specifically this means: if a task is solved in a more optimum manner using a different procedure, we will inform you as the prospective customer even if we would therefore not be able to sell our tools.
This corresponds to our company philosophy that places sustainable work that is based on trust over short-term earnings. Furthermore, we are obliged to do this due to our expert status.
Stay up to date
With the gravostar e-mail newsletter you will regularly learn everything about process-integrated part marking or automated deburring.